2018 will mark a watershed for CACVS (and divine id), the agency's major project.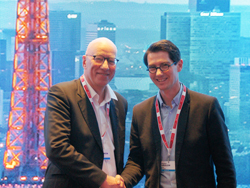 After 25 years of being the sole captain onboard, our client Pr. Jean-Pierre Becquemin decided to partner with the young and talented Pr. Stephan Haulon to organize its congress, so that he takes up the torch.
They gathered a very high level scientific committee and this year's programme promises to be the best ever. We implemented a brand new website to represent this new dynamics.
Moreover, it will be the first congress to experience the new
Medtech
regulations, which signed a revolution in the management of healthcare professionals' invitations to a congress. The first one to take care of the mess as we say. We had to completely rethink our organizational habits and keep pace with the sponsors, in order to maintain an acceptable attendance; and try to educate physicians to this new operating mode, not without difficulties. Huge issue at stake considering that half of the attendance is composed by invited physicians!
The congress looks very promising, given the difficulties we had to deal with, and we look forward to welcoming you in Paris.