The launch of the European Capital of Sport Year in January 2017 took place at the Vieux Port with the Red Bull Crashed Ice.
Following the success of the first event, a second edition is scheduled on February 16-17. It will be the third stage of the 2017/2018 season, after the United States and Finland. The year will end in Canada.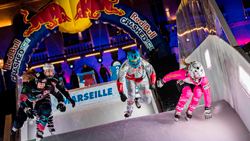 The Ice Cross Downhill has become one of the most exciting winter sports and the fastest skating sport. It's an action-packed competition, with tense battles in an exciting atmosphere in both the male and female events. In the Red Bull Crashed Ice, four athletes descend impressive tracks with sharp turns, shoulder to shoulder, with obstacles and jumps! They can reach speeds of up to 80 km/h. Competitors who obtain the most points in each event will become champions.
The race in Marseille is exceptional as it is unique. Far from the ski resorts and snowy mountains, it is in the heart of the city of Marseille, at the Vieux Port that is once again hosting this extraordinary spectacle.
Downhill all the way!
Event FB
Relive the 2017 edition
Video 2017
Photo gallery