Deep in nature, that the Hotel Les Volets Rouges
It is in the middle of the Gineste pass, deep in nature, that the Hotel Les Volets Rouges can be found. Formerly known as "Du joli bois", this establishment, almost forgotten by the locals, has risen from the ashes thanks to the passionate work of a couple.
Ideally located, in the heart of the National Park of the Calanques of Cassis, the hotel has a breathtaking view of the surrounding nature. In the heart of the Marseille scrubland, the hotel blends into the scenery and has the luxury of direct access to the mythical Calanques paths. A godsend for holidaymakers looking for a retreat and quiet walks in the middle of nature.
The first and only hotel in Cassis to obtain the international Green Key ecolabel
It is the first and only hotel in Cassis to obtain the international Green Key ecolabel, which contributes to the development of sustainable, environmentally friendly and socially responsible tourism. This label, which requires more than a hundred criteria to be met, is coveted but rarely obtained. Amongst the criteria for classification, the hotel must invest in plants that are self-sufficient in water, have hand-made wooden buildings, offer organic products that are both tasty and practical (shower gels, etc.), in short, display a general ecological commitment. It was therefore not without difficulty that the couple obtained this label which they now display as proudly as a star.
A small independent hotel
The hotel is a small independent business and has 20 rooms, most of which have a private terrace overlooking nature. The breakfast offers homemade, local products, organic teas, pastries and fresh breads from Cassis bakers and craftsmen. For lunch, gourmet picnic baskets are available to take away for a walk in the Calanques. Finally, for dinner, the owners propose a unique menu in winter, or a menu with local flavours in high season. The wine list offers exclusively Protected Designation of Origin Cassis wines from the 10 vineyards surrounding the hotel. The restaurant's offer is only accessible to hotel guests, a guarantee of peace and quiet!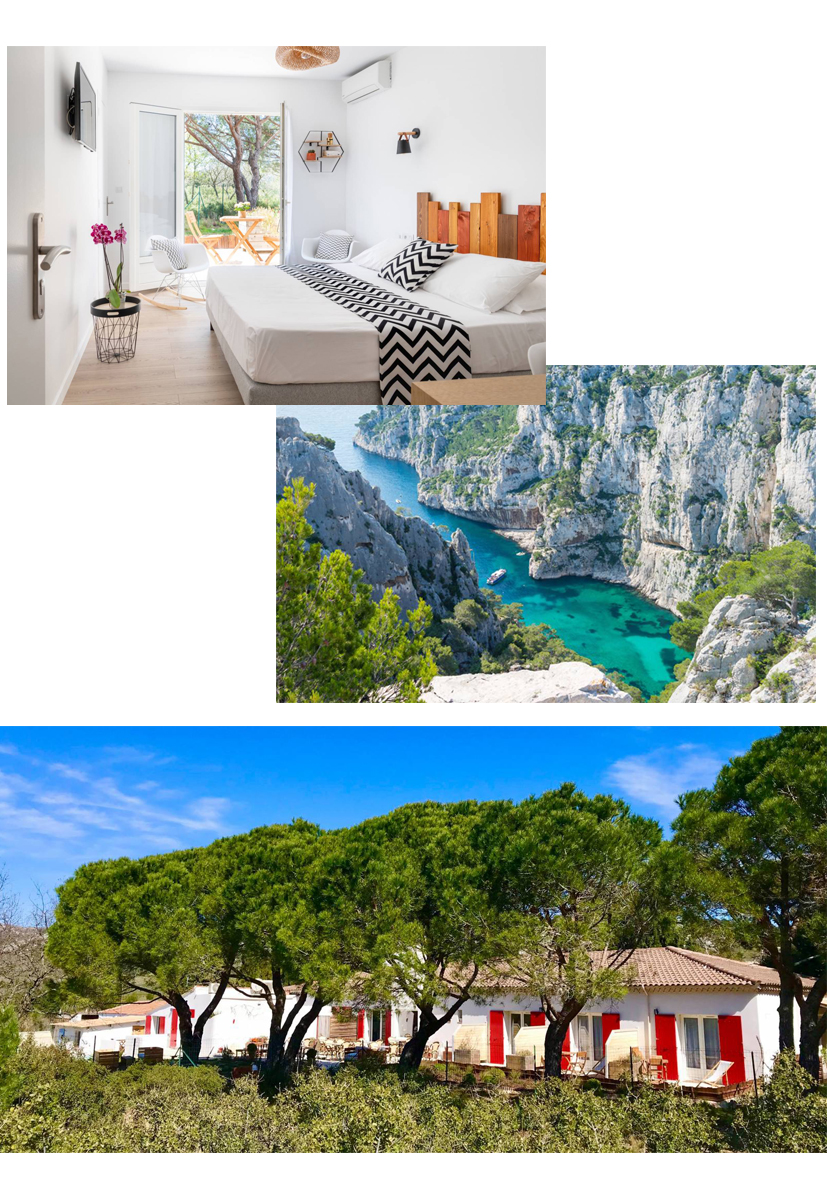 If you want to have an unusual seminar to work with a free mind and a superb view, don't worry, it is possible to organise your seminars at these estates, nestled in the middle of nature.
If you would like us to help you organise your event, contact us!
Les Volets Rouges hotel – Cassis
Route de la Gineste, D.559, 13260 Cassis, France
More informations: www.lvrcassis.fr