The Panier district is the oldest neighborhood of Marseille, and also the most well-known and visited. Situated above the Vieux Port, its visit is obligatory! Discover its steep narrow lanes and take the opportunity to discover Marseille specialities in its shops.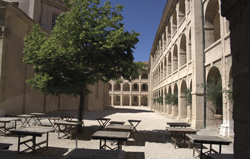 Beneath the district, Lenche square (a former Greek Agora with its mansion) is a meeting place and a marketplace. A bit further-up is the small Lorette square. The quietist and most hidden is the square of Moulins (windmills) at the top of the hill (although today there is only one windmill left).
The must-see monument of the Panier is the Vieille Charité with its exceptional architecture. Originally it offered a refuge for the poors. Now it includes several multi-cultural structures and temporary exhibitions are held throughout the year.
In these narrow streets, you will discover typical small bistros, craftsmen, creator workshops, concept stores and shops considering themselves to be "made in Marseille". But what are these Marseille specialities?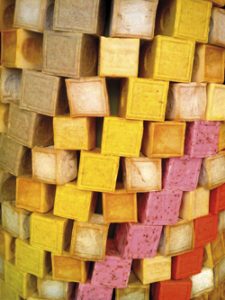 • The internationally renowned Savon de Marseille (soap) is composed exclusively of natural ingredients and can be perfumed with olive oil or lavender. We used it during the "Marseille to Paris" evening in a workshop where attendees customized their own soap.
• Pastis (or "little yellow") is an alcoholic anise flavoured beverage created by Paul Ricard. The beer La cagole (the name literally translates as "bimbo") is brewed in Marseille. You will discover these drinks in particular at the Maison du Pastis, on the Vieux Port (below the Panier and just next to the Town Hall).
• Last but not least, sweets including the croquants marseillais (almond-based biscuits), the navettes de la chandeleur (orange blossom flavoured biscuits), the marseillotes (chocolate covered anise flavoured nougat) and espérantines (chocolates made with olive oil).
We offer regularly these local specialities to the speakers of congresses organized in Marseille. And last June, during the annual congress of the Women's Imaging Society at the Palais du Pharo, there was an exhibition of local products.
Of course, there are many other specialities to be discovered in Marseille, such as the terracotta Santon which emerged at the end of the 18th century and which are in the Christmas nativity scenes. In December, there is a market dedicated to them. Also, you will be able to discover Marseille earthenware and Boutis (bedspread).
The atmosphere of the Panier is unique! Discover during your next visit, this charm-filled corner of Marseille that inspired the hit series "Plus belle la vie".
In recent years, the Panier has also become an open-air art gallery where some walls have been offered to talented graffiti artists. Get acquainted with this misunderstood art form, with Asha, a passionate street artist, who organizes the Street Art Tour of the Panier and who will explain the specificities of this art during an urban 2h30 walk.