PRADO Shopping, which is located in the 8th district of Marseille, opened its doors at the end of March. It's more than a shopping mall. "A shopping area capable of attracting urban shoppers", states its managing director Joanna Elbaz.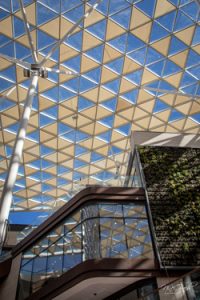 This is a space which is neither closed nor really open, covered with an amazing canopy, protecting from bad weather in winter, sun and heat in summer. This glass covering is indeed an impressive achievement. This is an area of 4300 sq with 1750 glazed panels, it matches superbly with the exceptional roof of the Orange Vélodrome stadium. A plant wall is also installed.
Last November in Cannes, the PRADO Shopping center won a Mapic Award in the category for the "Best future shopping center". Mapic is the international trade fair dedicated to retailers. It is held in Cannes every year in November.
50 shops and restaurants have opened, for residents who do not live close to other shopping centers (Terrasses du Port). Employees of the neighborhood are able to come and have their midday meals, to do some shopping. Indeed, many head offices (banks or large businesses) are located on Avenue du Prado. This shopping mall is also for strollers, ideally located at the exit of the subway from the Prado roundabout, and also at the foot of the buses to Borely Park or the beaches.
An ideal location!